Talk about cloud services and Amazon doesn't enter the room! It's next to impossible! With a 32.4% market share, Amazon Web Services (AWS) is undoubtedly the market leader in cloud computing services. As per a Canalys report, AWS, in February 2020, this particular market is dominated by AWS, followed by its lead competitors Microsoft's Azure, Google Cloud, and Alibaba with a market share of 17.6%, 6%, and 5.4%, respectively. In the first quarter of 2020, AWS pulled $10 billion in its revenue, accounting for 13.5% of Amazon's total revenue. This success story of Amazon has been the same since the emergence of the Cloud service market. But what makes Amazon stand among its competitors? If all its competitors provide similar services, why is the tech world obsessed with AWS?
In this article, we will see how AWS is superior to Google Cloud, Microsoft Azure, Alibaba, and other players in the cloud computing industry. Instead of exploring the depth of offerings, we will talk about the range of how they contribute to make Amazon a frontrunner.
'AWS is a market leader' says Gartner Report: What the Experts have to say about AWS
In September 2020, Gartner evaluated cloud infrastructure and platform services (IaaS & PaaS) for major market players, including AWS, Azure, Google Cloud, Alibaba, Oracle, IBM, etc. According to the report, AWS came up as the leader with the highest score in both axes of measurement – ability to execute and completeness of vision. Gartner reports that though Azure claims to be an enterprise-ready platform, it feels less ready than expected, given its long history as an enterprise vendor and is still has issues like documentation, technical problems, etc. Google, on the other hand, is seen as a secondary service provider by the industry.

How does AWS outshine its competitors?
On the tech front, AWS is miles ahead of its competitors when it comes to its suite of services, network, and availability.
Products and Services
AWS provides a range of solutions engineered for your specific needs and demands. AWS cloud infrastructure outsmarts its competitors to offer you an effective guide that helps you adopt the innovative technology with ease. Today, millions of customers, including private and government organizations, use AWS for cost-effective and faster solutions. The leading streaming companies like Netflix and Spotify are using it as their cloud infrastructure. Steady Rabbit uses its database management and cloud computing extensively to offer technical expertise for its customers. They don't have to worry about updating them constantly or troubleshoot the technical glitches. AWS handles everything for them, be it computation, storage and database management, application integration, artificial intelligence, Internet of Things (IoT). With over 200 featured services, categorized into industry-based solutions and technology-based solutions, AWS's product portfolio is unmatchable to what any of its competitors are offering. Within those services, AWS offers in-depth expertise and preconfigured services suitable for your applications for a better cost and performance trade-off.
Explore Our Products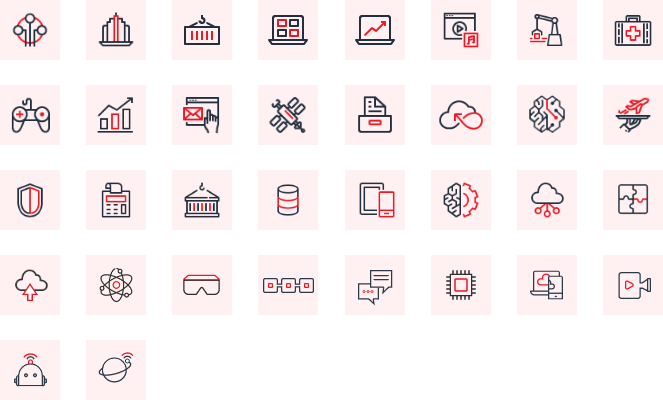 There are significant differences in the services offered by AWS, Google, Azure, and others. Consider the following products where AWS comes out as a clear winner
AWS Amplify: In the web and mobile development arena, AWS has a bundle of services under its Amplify. Google's Firebase tries to match with it but lags way behind. On the other hand, Azure is outdated in terms of implementation and innovation. AWS offers responsive support for easy implementation and service management, while others like Azure and Google struggle to provide effective solutions in the minimal response time.
Elastic Compute Cloud (EC2): Amazon's EC2 enables computing scalable on demand. Among Google's Compute Engine, Azure's Virtual Machine, EC2 provides the most comprehensive solutions while others lag in flexibility.
Simple Storage Service (S3): Amazon has the longest-running and wide range of services to store objects under its Simple Storage Service (S3). It also provides you free tutorials, webinars, and feedback on a regular basis. Though Google Cloud storage and Azure storage are also in the league, their services are far behind than to what S3 has to offer. Azure has only specialized solutions such as Data Lake. Google Cloud provides only a few storage solutions.
Elastic Container Services (ECS): Amazon's ECS and ECR (Elastic Container Registry) provides full-fledged docking solutions. Though Google and Azure are also on board, they are limited in terms of their services. For instance, Azure's AKS (Azure Kubernetes Service) lacks private docker registries.
Network and Availability
AWS offers the most extensive network of services that no other cloud provider. Available in 81 zones around the world, its infrastructure is spread across 25 geographic locations. If that wasn't enough, AWS is now advancing with 21 more availability zones and 7 AWS Regions in India, Indonesia, Spain, Israel, UAE, and India. It has the largest community with millions of customers and thousands of partners globally. The AWS Partners Network (APN) has tens of thousands of Independent Software vendors and system integrators. Microsoft's Azure also has a wide network but not as extensive as AWS. On the other hand, Google Cloud coverage is limited to the USA, Europe, Asia, and some regions of South America.
AWS also presents a tonne of benefits on the business front, making it a clear choice.
Affordable
Economy is one of the major parameters that drive an organization's decision-making policies. With it comes to providing economical solutions, AWS is a pioneer. Amazon provides affordable solutions by economizing only the services you need. It also provides commercial pricing, which is very cost-effective for small and big organizations equally. With Elastic Beanstalk, AWS automatically deploys and scales your web applications without any additional cost. While its competitors bill you for adjunct services, you just have to pay for AWS resources needed to store and tun your application.
Security
AWS offers the most secure environment for computing, storage, and other cloud services, which is a specific requirement of any military and financial organization. HealthCare.Gov, Dow Jones, NASDAQ are a few of its proud customers. AWS is a trusted platform that gives effective business solutions while protecting you from potential hacks and other security risks. It is equipped with 230 security, compliance, governance services, and features. It comes with 90 security and compliance certificates for you to have a seamless business.
Innovation
Since the launch of AWS in 2004, Amazon is regarded as one of the most innovative organizations in the world. Amazon's first-mover advantage and agility never let it lag behind its competitors. Among AWS, Google and Microsoft, Microsoft is usually very late in bringing the innovation over its platforms, making it tough for them to compete and stay updated to newer technologies. A few of the cases where Microsoft lagged behind others are Zune, Edge, and Groove. It keeps experimenting with them to provide the best of class services to its customers. Let us see what makes AWS the most innovative company among its competitors.
In 2004, AWS came with Lambda, enabling developers to focus on code without worrying about server management. AWS helps Steady Rabbit focus on its motto of speed and right delivery by providing efficient backend support.
SageMaker, an AWS Machine learning service empowers scientists to adopt ML without any prior experience. It develops, trains, and scales AI models automatically. With the help of AWS, Steady Rabbit has emerged as a technical ninja providing scalable secure products to its clients.
Amazon's QuickSight is currently the most promising solution in this field of Business Intelligence. With the evolving technologies and diversified business fields, QuickSight provides innovative ways to draw insights from your data.
Conclusion:
The list where AWS's products and services win is a longer one. There are many services like Amazon AURORA, DynamoDB, Lightsail, etc., which makes Amazon an undebatable leader in Cloud services. If you are looking for a business that demands high availability, security, efficiency, agility, and constant innovation, then AWS should a choice for you.
To know more about how we can create AWS based solutions for you, reach out to contact@SteadyRabbit.in